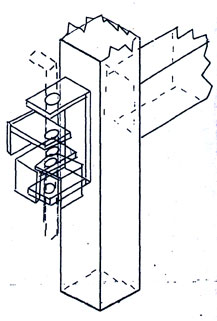 Black River Cattle Equipment has been using this pinning system since 1965.

It is fast and efficient and easy to erect.

Single and double lugs allow up to five panels on the one pin and cover uneven ground easier.

This pinning system actually protects your panels by allowing greater movement, hence less stress on you.

The pinning system is the most important feature of a portable cattle yard.

Portable yards, mate!

NB: If you can see a white square in the space above, the Black River Cattle Equipment Company theme song is still loading, so please wait. This may take several minutes.
Otherwise, press 'refresh' to hear the song again.
WHEN Black River first designed and manufactured its double-lug and single-lug pinning system for portable panels way back in 1965, it did not know that its multiple-pinning system would still be the most efficient and versatile style in use in the cattle industry today.
Over this time many other pinning techniques have developed that have failed to give the ability of joining as many as five panels from the one connection.
You can inspect these portable cattle-yard panels and a full range of equipment including a crush and vet unit with parallel squeeze and soft-touch bail lock.

Our history
Necessity, being the mother of invention, was what motivated Pat and Margaret Heferen to start manufacturing cattle equipment.
They arrived at Black River, near Townsville, in the early 1960s from the family property, at Moree, NSW, and were not able to buy cattle yards or a crush to handle their stud cattle, so they made their own.
Neighbours saw them and ordered sets. Vic Taylor, of Anthill Plains, took the first cattle crush and five more were ordered almost immediately.
Pat's cattle crush with a sliding head bail and veterinary area for preg testing was what northern cattlemen were after.
Now, nearly 40 years later, Black River Cattle Equipment crushes have won many awards of merit and can be found in all Australian States and nine overseas countries.
The Black River Cattle Equipment Company is in good hands as it moves into the new millennium with son David and his wife, Glenda, coming up with new ideas, the latest being the soft-touch bail and parallel squeeze locks, followed by the push-lock catch and two new calf-branding tables.
The upsurge in bull riding has made Black River the leading manufacturer of bull and rodeo chutes and the top supplier of complete complexes.
The design of the double-deck loading ramp for export cattle at the Townsville Wharf was one of the most recent challenges and highlights for the company.
The Heferens gratefully acknowledge that many features of their equipment are the result of suggestions from clients and friends.
Black River Cattle Equipment Company has learnt from the experiences of others and incorporated the necessary changes so that its product has become a better management tool for the cattle industry and will serve many primary producers well into the future.